If you're not having fun, you're doing something wrong.
No one can whistle a symphony. It takes a whole orchestra to play it.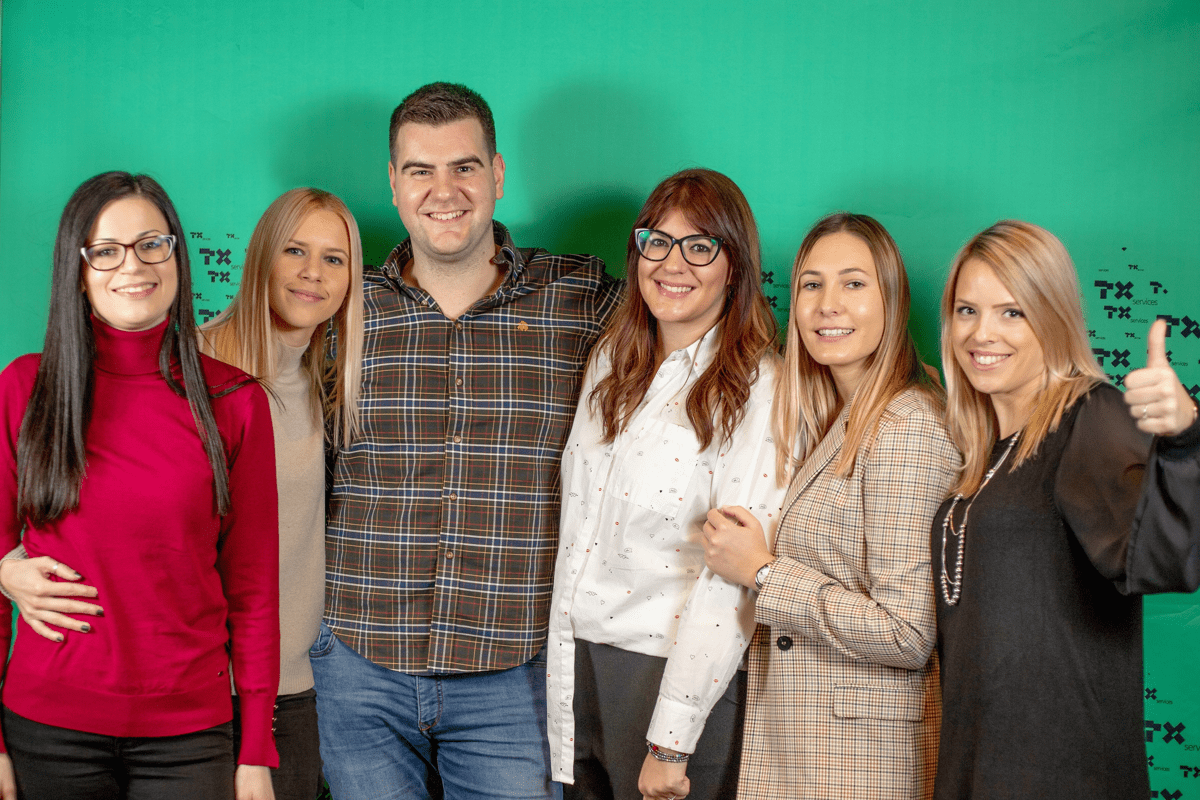 Talent Management Team
Hey there! We are Denisa, Milica, Nikola, Mina, Tamara, and Maja and we are members of the Talent Management Team! Together we have over 25 years of experience in IT ;)


The Talent Team is in charge of the full-cycle recruiting process.
Additionally, each Talent Manager is responsible for a couple of dedicated tech teams. Talent Managers are handling the onboarding process, 1:1 meetings with employees and their Line Managers, and Offboarding.
Our team is in charge of

Culture, workplace & event management
Consulting Leadership
Project Management
Employer branding
Learning and Development.
What do we appreciate the most about TM team?
Get to know us even better!
Previous experience in IT recruitment is pretty much mandatory. We are working in a fast-paced environment and we are hiring continuously so it's important for us to have somebody who can handle and keep the pipeline active during the whole year.

Talent Management Team is part of TXS Core team - meaning that besides our regular tasks, we are also involved in other processes and projects when necessary. Mina is our Team Lead, and we all report directly to her, and further, we report to Country Operation Manager.
We are very independent, so all of us are free to organize our working days/responsibilities/deadlines the way we want.

We are in charge of the full-cycle recruitment process - we do an HR assessment, reporting, lead candidates through the process, make an offer, sign the contract, and are actively involved in onboarding.

While being mostly focused on recruitment during the first couple of months, later you can choose one (or more) other specialization areas. We cover almost every aspect of HR and room for further improvement in our environment is more or less infinite.

For us, the ideal candidate can relate to this scenario:

''You are sitting in your office, looking through the window, comfortably leaning back to your ergonomic-friendly office chair. Staring into the distance, at that sun-kissed Belgrade, you are thinking through the candidate who is supposed to join the final interview in a couple of minutes. You are on stand-by - whilst gently blending the second coffee this morning, you are unconsciously turning around towards the computer, making the last-minute check. Everybody is already here. Google Meet works. Candidate joined. You inhale deeply and with great pride announce ''And so it begins''.

Silent nodding and support coming from all other colleagues. You close your eyes, visualizing closing that Linkedin project after 3 and a half months.

Slack message interrupts the silence.

''We are opening a new position. Senior GO Developer. Maybe even Team Lead. Do you have somebody in the pipeline already?''

Silence. Victory smile is gone. You are in disbelief. You are falling back to your chair, and just like that, somewhere between despair and hopelessness, you ask your colleague:

''Hey Ana, do you know Ivan? He could be a perfect fit for it!''

''Ivan? From Brum Co.? Didn't he recently change his job?''

''No, I'm talking about Ivan from Cmony. I met Ivana and Milos last week, they told me he might be interested in a job change, he mentioned something while they were off for a beer two weeks ago.''

This is our starting point.

What would you do in this situation? What would be your next step?

Can you continue this conversation? Are you able to name at least three companies that are mostly using Go as their tech stack, out of blue?

We love numbers
Number of applications in 2021